Epic Healthy Easter Recipes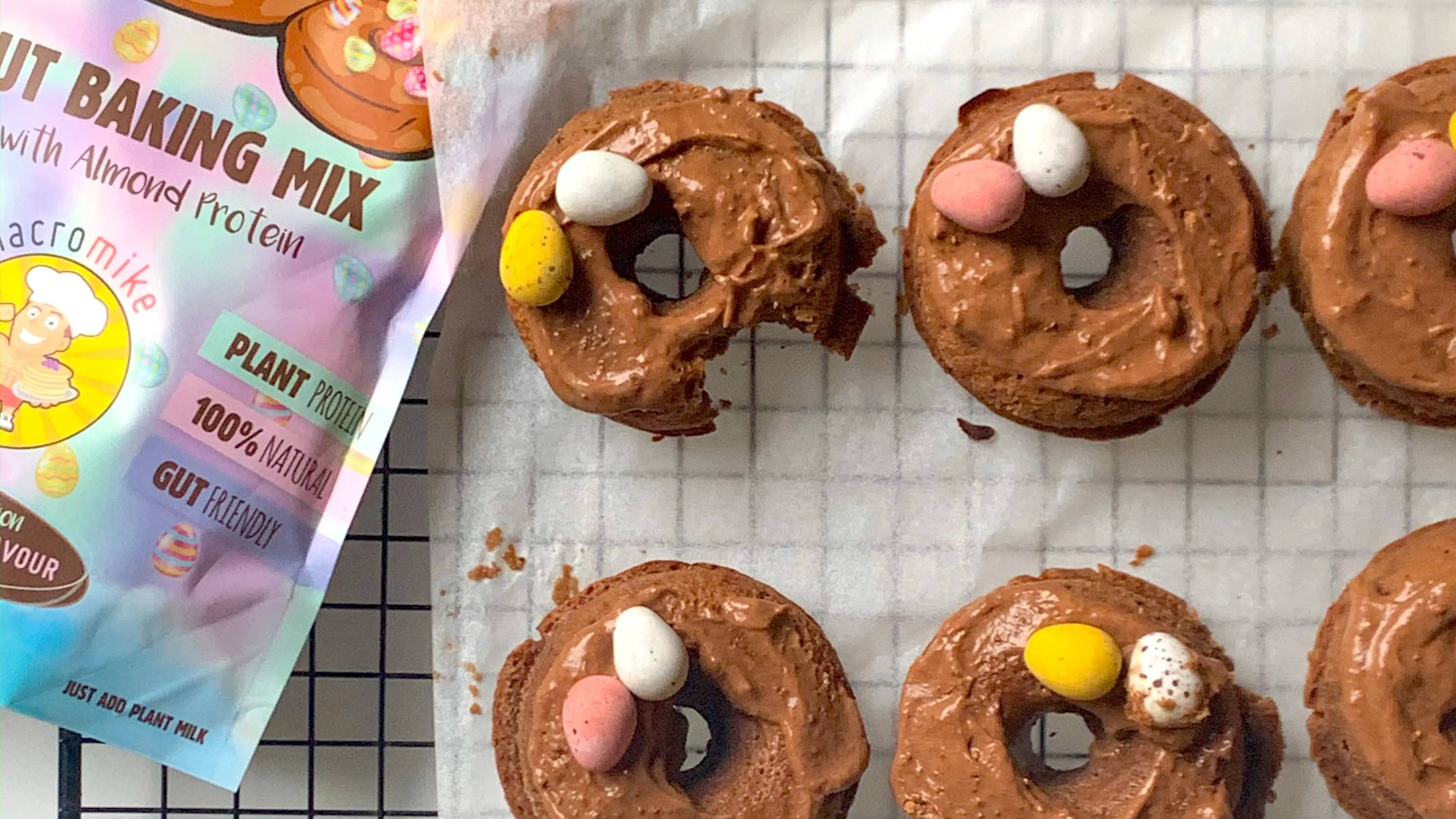 Time to celebrate EASter the Macro Mike way

Easter is the time for chocolate and hot cross bun indulgence, and we're helping you get the ultimate Easter experience the healthy way with our limited edition Easter collection and delicious recipes! Make one or make them all and treat yo'self the macro-friendly way! As always, all recipes are gluten free, plant based, dairy free, refined sugar free and SUPER tasty! Only treats, no cheats. Remember to check out our Insta @macr0mike for even more inspo!
Hot Cross BUFFins!
⁠
Yes this is actually a thing! Nothing screams Easter more than fresh hot cross buns and this recipe does not disappoint. The ultimate fit Easter treat made with our special edition protein! Made by @jessica_obrien91
⁠
1 scoop Macro Mike Hot Cross Bun Protein
2 cups mixed fruit or sultanas ⁠
2 1/2 cups of gluten free self raising flour⁠
1/2 tsp of bicarbonate of soda⁠
2 tsp ground cinnamon ⁠
1/2 tsp ground nutmeg ⁠
2/3 cup sunflower oil ⁠
1 cup almond milk ⁠
2 eggs or flax eggs ⁠
200gm of coconut sugar + 2 Tbsp extra⁠
80gm of icing sugar⁠
1 tsp lemon juice ⁠
⁠
Method ⁠
Preheat oven to 200°C. Grease a 12-hole muffin tray and line with paper cases. ⁠

Soak dried fruit in just enough boiling water to cover for 10 minutes. Drain well, then pat dry with paper towel. ⁠

Sift the flour, protein powder, soda and spices into a large bowl. In a separate bowl, whisk together the oil, almond milk, eggs and sugar until combined. Add to the dry ingredients and stir to combine. Gently stir in the fruit. Divide the mixture among muffin cases, then bake for 20-25 minutes until lightly browned and a skewer inserted into the centre comes out clean. Cool completely on a wire rack.⁠

Meanwhile, place the extra 2 tablespoons sugar in a pan with 2 tablespoons water and simmer over low heat, stirring, until sugar dissolves. Brush the glaze over the muffins. ⁠

Sift icing sugar into a bowl. Add lemon juice and just enough hot water to make a thick, pipe-able icing. Use a piping bag or drizzle from a spoon to draw a cross on each muffin, then serve. ⁠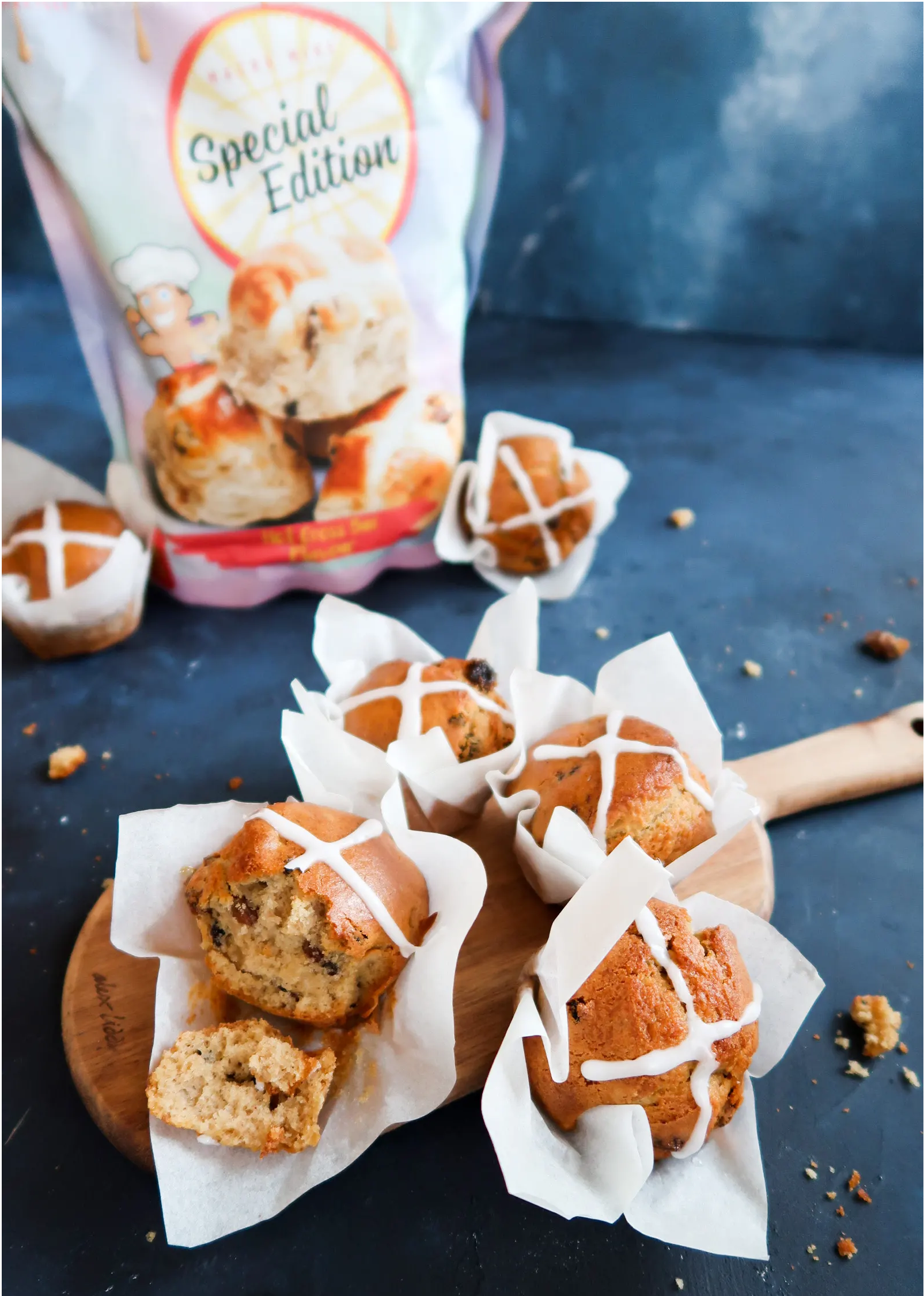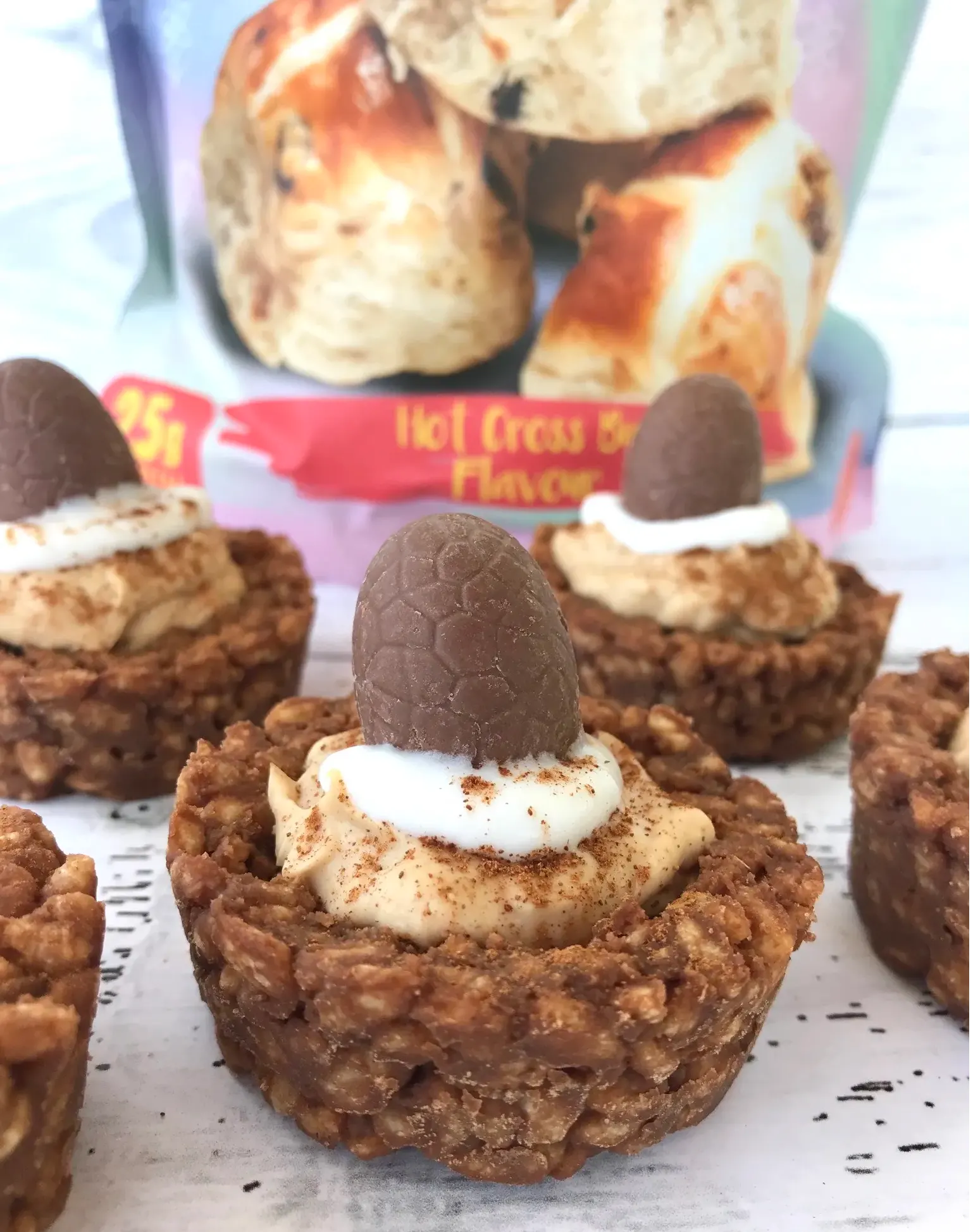 Easter Nests
These little nests are chocolatey, spicy and an Easter flavour sensation! Try not eat them all at once! Made by @hannah.banana182
Ingredients:
For the Nests:⁠
1/4 cup Natvia sweetener ⁠
2 tbs Rice Malt Syrup⁠
2 tbs Coconut Oil⁠
1 tbs Cacao Powder⁠
1/4 cup Macro Mike Hot Cross Bun Protein
1 cup Rice Puffs⁠
⁠
For The Topping⁠:
Coconut Yoghurt ⁠
Macro Mike Hot Cross Bun Protein⁠
Dairy Free Chocolate Eggs⁠
⁠
Method:⁠
In a saucepan heat sweetener, syrup, oil and cacao powder until smooth. ⁠

Take off heat and stir through protein powder. ⁠

Pour into larger bowl and stir through rice puffs until it's all coated. ⁠

Divide and distribute into silicon muffin trays and shape to leave a well in the centre. ⁠

Mix coconut yoghurt with protein powder and dollop into each 'nest'. Add any additional toppings. -⁠
Easter Egg Slice

This delicious vegan, gluten free, refined sugar free slice uses our limited edition chocolate Easter Egg Protein! Grab yourself a pack before they HOP away and make this drool-worthy snack!⁠ Recipe by @eatingforfuel
⁠
Ingredients:
Easter Egg Slice Base:
100g coconut flour⁠
40g Macro Mike Easter Egg Protein
1/4 cup maple⁠
1/4 cup coconut oil, melted⁠
35g of Macro Mike PB+ mixed with a 1/4 cup of water

Middle layer:
1/4 cup runny nut butter
4 tbsp of melted coconut oil⁠
20g of maple syrup
1 tsp vanilla extract and a pinch of salt ⁠
20g of coconut flour⁠
2 scoops of Macro Mike Easter Egg Protein
⁠
Topping:
Vegan white chocolate, colourful easter eggs & sprinkles! Use vegan/dairy free Easter eggs if you need⁠.
⁠
Method:⁠
In a mixing bowl, combine all the ingredients for the base until smooth. Pour into a lined slice tray and flatten down with your hands. Pop in the freezer⁠

For the filling, mix all ingredients until smooth and spoon over the base, pop back in the freezer⁠

For the topping, melt your white chocolate and pour it over the slice, then add your sprinkles and Easter eggs. Freeze for at least 2 hours and ENJOY x